Educator Programs
MUSEUM INSTITUTE FOR TEACHING SCIENCE
Cape Cod Region
One-Week Institute for Grades 3-8 Educators
Making Waves:
Exploring Water and Marine Science to Engage
Your Students in Inquiry

JULY 10-14 2017 Summer Professional Development Institute
Dive into the Science and Engineering Practices and explore bringing the revised MA Standards into your science curriculum!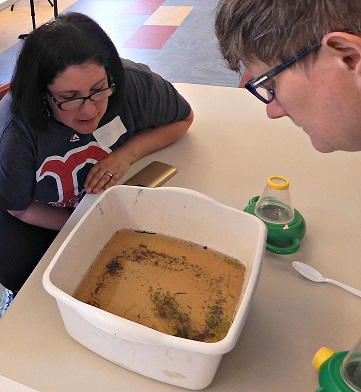 Join us this summer as Cape Cod becomes your living laboratory for inquiry and exploration about water.
Learn about water properties, coastal ecosystems and marine science.
Tour a marine animal hospital and examine the relationship between marine life and their watery homes.
Visit science laboratories in Woods Hole and witness some of the science and engineering practices and the instrumentation involved in studying ocean processes.

Explore the water cycle and properties of water and water chemistry, while engaging in standards-based activities you can bring back to your classroom.

Throughout the week, gain experience using the Science and Engineering Practices to create exciting, inquiry-based, "hands-on, minds-on" interdisciplinary STEM investigations for your classroom.
Dates:

June 10 Introductory Session; July 10-14
Cost: $375/participant; $350/participant for team of 2+ teachers from same school district
PDPs & Graduate Credit are available.
Housing is available for this region.
Sessions are conducted by the Thornton W. Burgess Society, National Marine Life Center, Mass. Audubonís Long Pasture Wildlife Sanctuary, Woods Hole Oceanographic Institute and Massachusetts Maritime Academy.